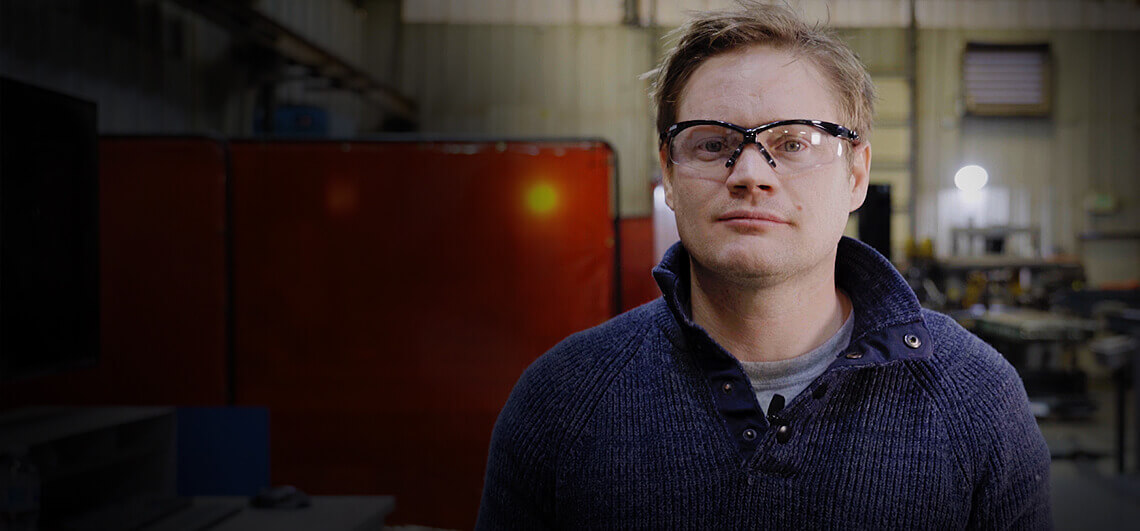 Black Mountain Manufacturing Quotes 3x Faster with Paperless Parts
The Challenge
Black Mountain Manufacturing was quoting large, complex projects on spreadsheets, which was not only time-consuming and inefficient, but also prone to human error.
The Solution
Paperless Parts streamlines Black Mountain Manufacturing's quoting process.
The Results
Black Mountain Manufacturing is turning around quotes 3x faster with Paperless Parts

Black Mountain Manufacturing tripled the number of jobs they were able to quote

Black Mountain Manufacturing's co-founder offloaded 90% of quoting to an administrator
Background
Black Mountain Manufacturing was founded by Jonathon Friedl and Isaac Houchens in Colorado in 2017. From the beginning, the vision for the business was to bring affordable, dependable, and high-quality manufacturing and construction services to the northern Colorado area. What started as a product-based company working out of a 600-foot space has grown to a sophisticated contract manufacturing services operation. Black Mountain Manufacturing focuses on automation and robotics companies, so every job they quote is a one-off, uniquely engineered solution for the customer. The company specializes in machining services, fabrication services, and waterjet and laser cutting.
Challenge
Quoting has always been a massive bottleneck for Black Mountain Manufacturing. "Our old quoting process was lightyears behind what it should be," said Friedl. "We had complicated spreadsheets that I built out so I could get very granular, but it was time-consuming." Black Mountain Manufacturing takes on large, complex projects, which often overlap disciplines. To generate a quote, Friedl would have to examine every part involved in the project without geometry. As a result, quoting the project could take days.
Friedl believed that Black Mountain Manufacturing's quoting process was holding the company back from scaling up and realizing the founders' vision. The shop implemented an ERP system to help organize the business, but the software did not deliver on its promise. He hired a software developer to create a software package that could operate like an ERP but also analyze part geometry. This approach proved costly and inefficient, so Friedl continued his search for a quoting solution that could leverage geometry and help the business grow.
Solution
When Friedl discovered Paperless Parts, it was exactly what he was looking for. "I was so frustrated with our current system that I even considered trying to build a solution myself," said Friedl. "Luckily, when we found Paperless Parts, I was excited right out of the gate. I was blown away by how well the system worked in the demo."
After implementing the Paperless Parts software, he was immediately surprised by how well-organized and responsive Paperless Parts' integration process was. "Many people sell great products, but the way that Paperless Parts managed the ERP integration process was a unique and fantastic experience," said Friedl. "I've never experienced this level of customer service from other software companies."
Within two weeks, Black Mountain Manufacturing was already quoting with Paperless Parts.
Results
Black Mountain Manufacturing's business was immediately set up for success with Paperless Parts:
Faster Quoting: Using Paperless Parts, Black Mountain Manufacturing delivers quotes 3x faster. Rather than estimating large projects on a series of spreadsheets, Friedl leverages Paperless Parts' geometric engine to power the pricing formulas. He enters assembly, tubing, and machine components, and copy and paste the pricing to each of the different parts. By digitizing and streamlining the process, Black Mountain Manufacturing shaves significant time off quoting. As a result, the shop has tripled the number of jobs they are able to quote.
Increased Sales & Diversifying Customer Portfolio: As Black Mountain Manufacturing gets quotes out the door faster, they have increased sales. "Statistics don't lie," said Friedl. "The quicker you deliver a quote, the more likely you are to win the job." At one point, Black Mountain Manufacturing stopped working with their biggest customer, which represented 60% of the shop's revenue. With a quoting tool that enables the company to quote customers three times faster, Black Mountain Manufacturing was able to replace all that lost revenue with smaller customers immediately.
Expedited revenue: Using Paperless Parts, Black Mountain Manufacturing has added custom markups to every order, so customers can choose speed or cost. With this function, it has become easy to charge for expedites, opening up a new revenue stream.
Digital customer experiences: Paperless Parts enables Black Mountain Manufacturing to upgrade from PDF quotes to digital quotes with custom notes and the ability to see when quotes are viewed. "Customers thought we were from the future," said Friedl. "One customer said they loved our quoting platform because it allows them to collaborate more easily with colleagues."
Empowered Employees: Paperless Parts is so easy to use that Black Mountain Manufacturing employees with little to no estimating experience can generate quotes. This has allowed Black Mountain Manufacturing to offload 90% of quoting work to a more administrative employee, freeing up Friedl's valuable time to focus on business development.
Smooth Integration: Paperless Parts integrates seamlessly with Black Mountain Manufacturing's ERP system, which was a priority for Friedl. "When a customer orders a part through Paperless Parts, it automatically goes into the ERP, the order is generated and it goes through the shop. When we get a job, this process is automated. It's incredible."
Paperless Parts made a significantly positive impact on Black Mountain Manufacturing's business, but Jonathon is most impressed by how responsive the customer service has been. "Paperless Parts built an excellent product and they cornered the market," said Friedl. "It would be easy for them to sit back, relax, sell, and scale-up. But they don't – they are always improving, releasing updates, and taking suggestions from their customers." This continuous improvement will be what drives the true partnership between Black Mountain Manufacturing and Paperless Parts forward for many years to come.
"Paperless Parts is the single most, profoundly positive investment I've made in my company in the past two years. It was such a game-changer for our quoting process that I don't want any competitors within a 100-mile radius to know about it. Stop wasting your time; buy Paperless Parts." – Jonathon Friedl, Co-Founder and Production Manager