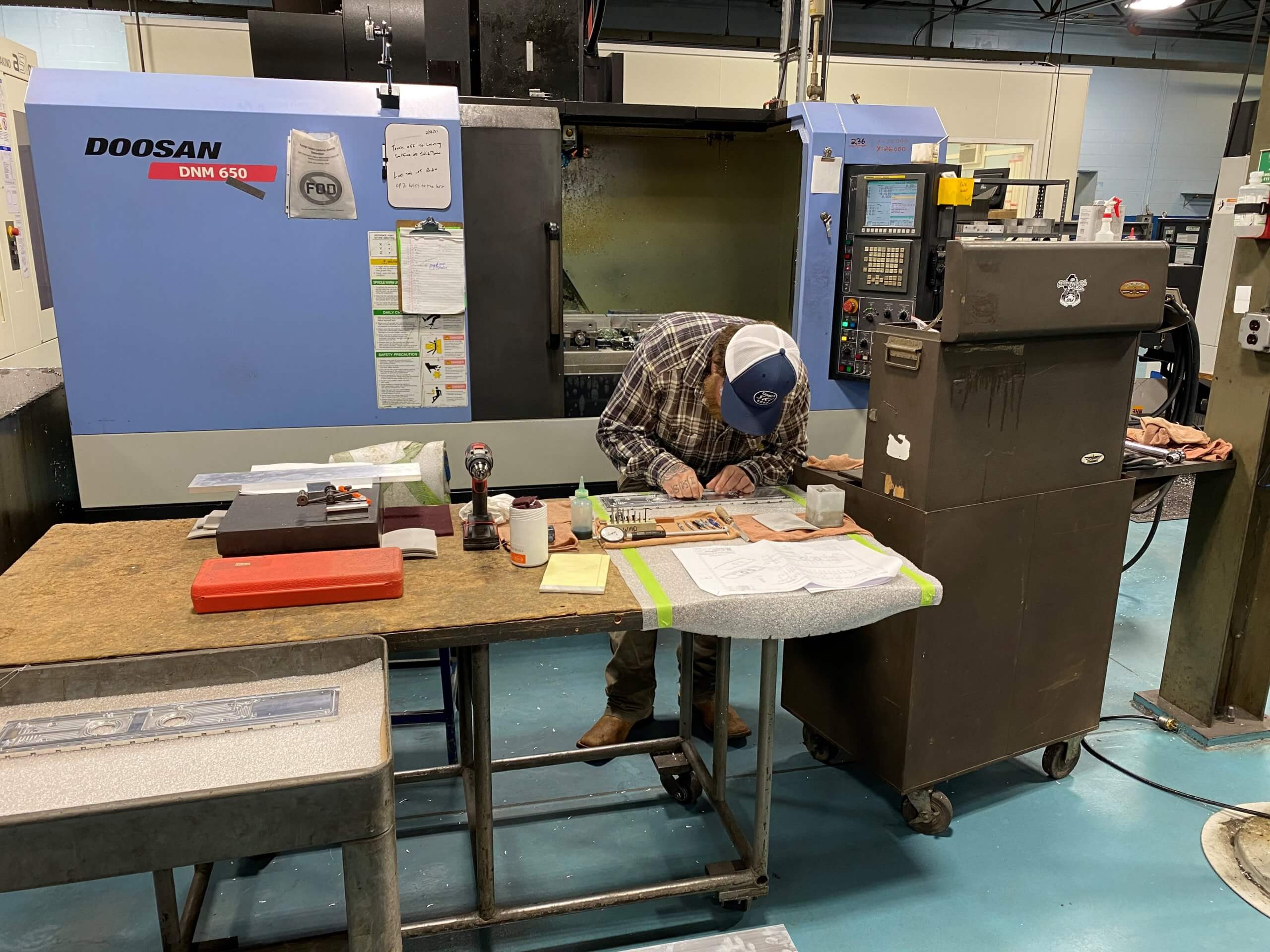 Baron Machine Wins $790K Defense Order through Paperless Parts
The Challenge
Baron Machine was drowning in paperwork and needed a streamlined quoting solution for their rapidly evolving shop.
The Solution
Paperless Parts eliminates paperwork and provides a host of unexpected benefits.
The Results
Baron Machine slashes quoting turnaround times by up to 90%

Paperless Parts' ITAR-compliant solution provides security for Baron Machine's defense customers

Paperless Parts' external chat feature helps collaborate with far-away vendors
Background
Jeremy Baron has owned Baron Machine Company since 2015, but the shop has been around for much longer than that. Started by his grandfather in 1957, Baron Machine was eventually passed down to Jeremy's father in 1970. From that day forward, manufacturing was an unavoidable part of Jeremy's life. When he finished college, it felt natural to return to his roots and help his father grow the family-run business.
Now a third-generation, full-service machining and fabrication provider, Baron Machine has evolved dramatically from its early beginnings as an eight-person job shop in Laconia, New Hampshire. Under Jeremy's leadership, the "global company with a New England work ethic" serves customers worldwide, manufacturing for diverse industries, including aerospace and defense, alternative energy, medical products, communication, and more.
Challenge
When asked about Baron Machine's greatest growth challenge, Jeremy answered quickly:
"Paperwork," he says. "I'd be taking home these huge packets of prints and specifications, writing quotes with a pen and paper at my dining room table. Then, without fail, I'd go to work the next day and discover that I'd left them at home."
On the days when Jeremy did bring his completed quotes into the office, verifying each estimate with critical team members was cumbersome at best.
When Paperless Parts reached out to Baron Machine and offered a demo, Jeremy had no reservations. "My company was continuing to grow, and we needed a way to keep up," he says. "We saw the potential immediately."
Solution
Paperless Parts moved quickly to implement the technology for Baron Machine. "We were up and running within a week," says Jeremy.
Customer feedback was even more immediate—and entirely positive. "So that's why you wanted me to send those STEP files!" one customer told Jeremy in a phone call as she spun her 3D model 360 degrees inside the Paperless Parts interface.
Baron Machine is pleased to see one particular type of customer using their new quoting platform. Because Paperless Parts is ITAR-compliant, it's secure for use by the shop's defense customers.
"Just last month, we got a $790,000 order from a defense company," Jeremy reveals before quipping, "and if I'd had to go in there and individually enter all 18 of those line items…" He leaves the sentence hanging, but the meaning is clear.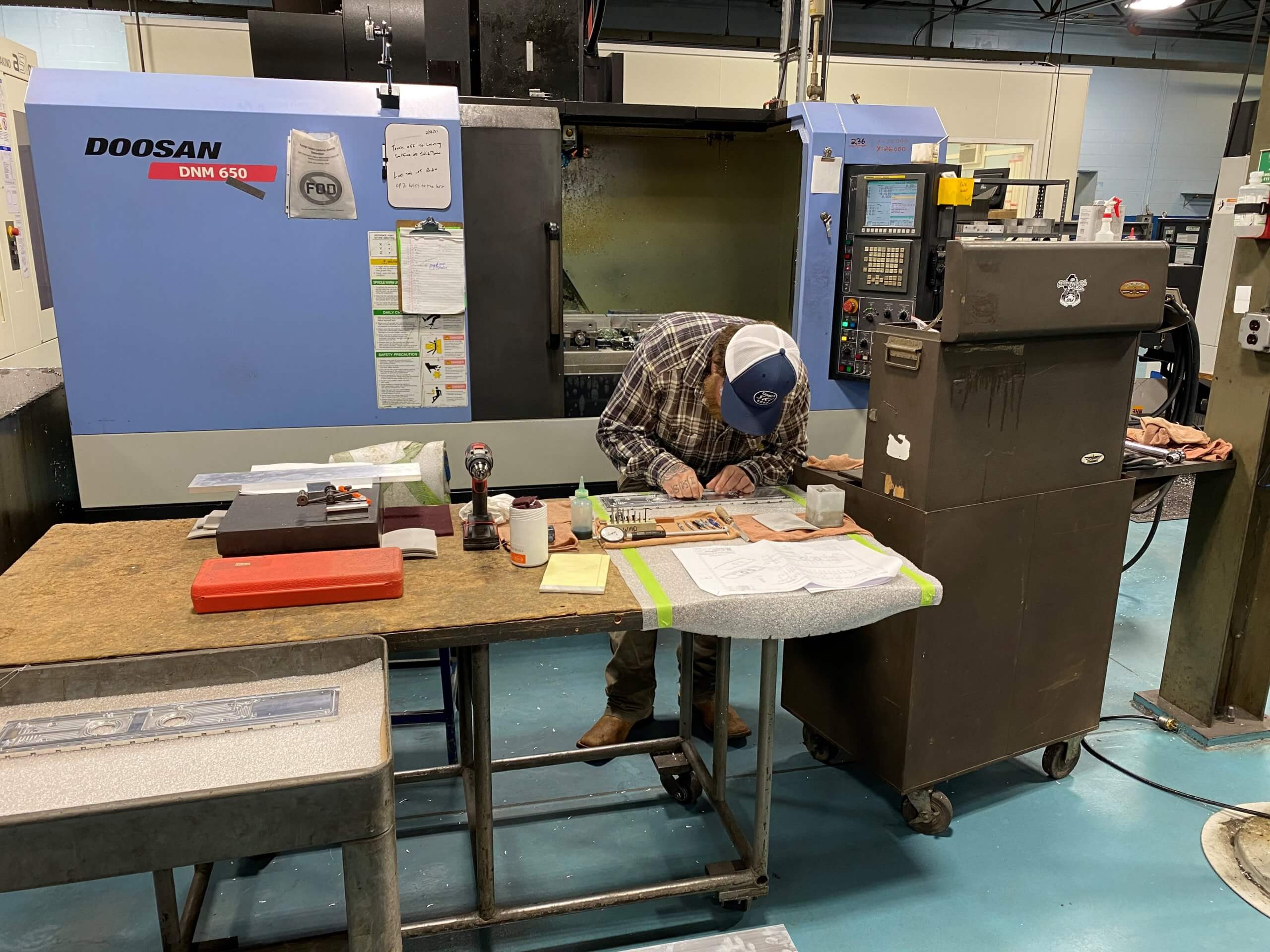 Manual quoting is time-consuming even for simple jobs, but the demand increases with the size of the job. With Paperless Parts, Baron Machine returns quotes to their customers significantly faster than ever before.
"For larger jobs, we're quoting 100% faster, with 2-4 day response times instead of 4-6 days." And the shop's turnaround on simple jobs? Jeremy does the mental math: "One part, aluminum, 50 pieces… I'll have that back to them in 4-6 hours instead of a couple of days."
That's a time savings of up to 90% on quoting alone. And faster quoting isn't the only benefit Baron Machine is enjoying.
—
Learn how to drive revenue at your shop today using "offensive" and "defensive" pricing strategies in our Job Shop Pricing Playbook.
—
"For me, it's the collaboration part of it, where everything is in one place, and you can assign somebody a task or tag them in a comment or a question," Jeremy explains. "Paperless Parts really streamlines our process."
The collaboration features in Paperless Parts also impress Baron Machine's vendors, allowing the shop to share job files directly with their plating partners.
"It's great not having to pull out a data package and find a way to send it," Jeremy says. "The information is already in there. I'm clicking on it, I'm adding my contact's name, I'm typing a 20-word message, and I'm hitting send."
Results
With Paperless Parts expanding their already impressive reach even further, Baron Machine:
1. Slashes quote turnaround times by up to 90%. Baron Machine reclaims 50%-90% of their time formerly spent on pen-and-paper quoting, thanks to Paperless Parts' automation and integration. The shop's programmers quickly access and verify the more complex quotes, catching errors before they leave the shop.
2. Securely accepts and shares files with defense customers. In compliance with NIST and Baron Machine's CMMC rating, ITAR-compliant Paperless Parts reliably serves the shop's most secretive customers, leading to jobs like a recent $790,000 defense contract.
3. Enables seamless job sharing and vendor interaction. Collaborating with far-away vendors has never been easier due to Paperless Parts' external chat feature and the simplicity of passing a customer's job details to a vendor for review. Baron Machine's internal communication is also enhanced now that team members can access customer information and engage colleagues from anywhere in the shop.
See how to quote faster and collaborate more securely with Paperless Parts' centralized ITAR-registered quoting platform.
My company was continuing to grow, and we needed a way to keep up. We saw the potential in Paperless Parts immediately.