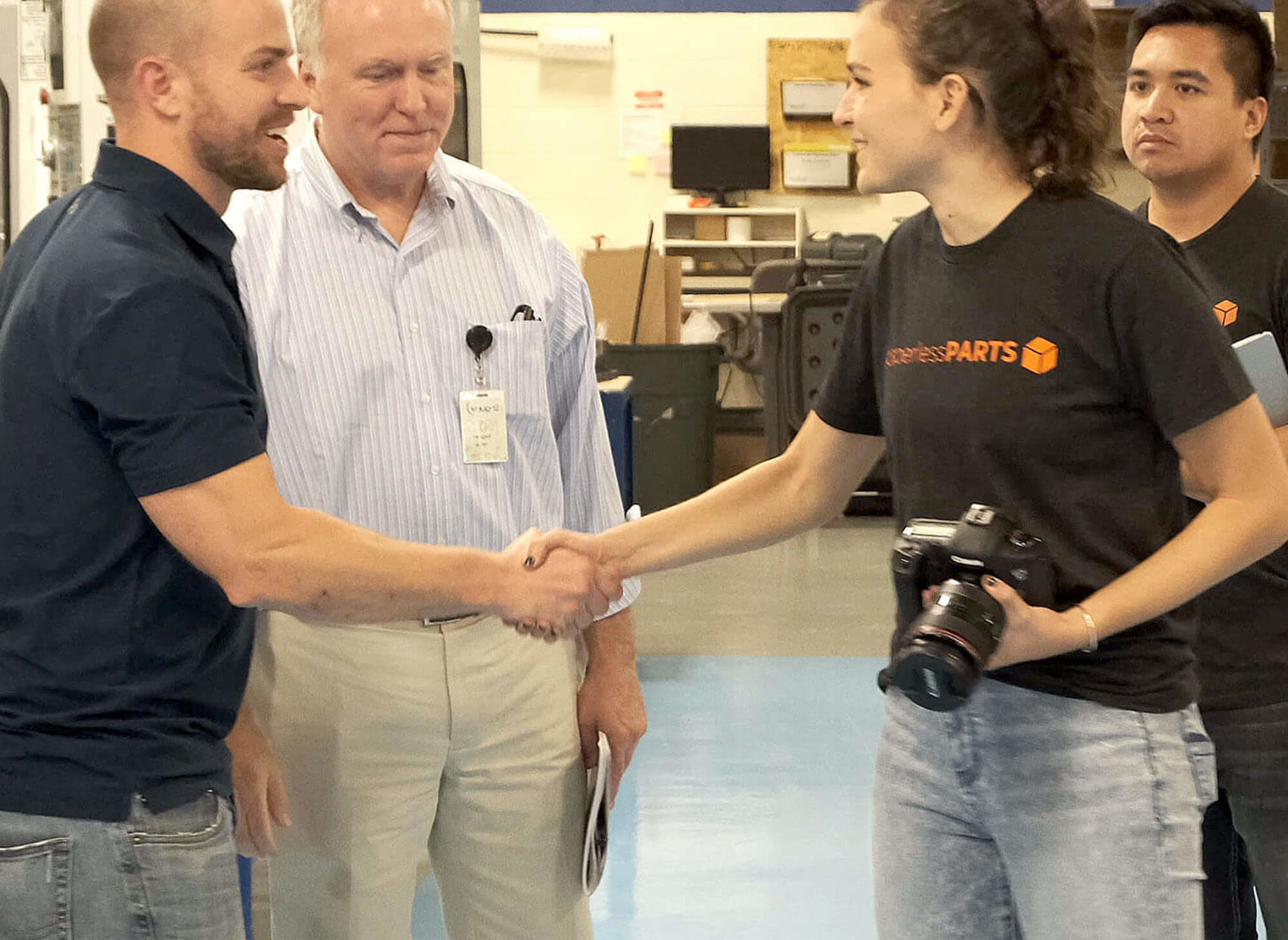 Your Complete Guide to the Paperless Parts Customer Champion Program
Hard work pays off. And if you're a customer of Paperless Parts, we know you're a hard worker.
Our customers are what set us apart from the rest. We pride ourselves on the longstanding partnerships we've built over the years because we wouldn't be where we are today without the help of constructive customer feedback and word-of-mouth referrals.
We thought it was about time we started giving back to the community that built our company. That's why we've launched the Paperless Parts Customer Champion Program.
At the most basic level: refer your network to us and earn cash.
On a more meaningful level: help us transform the manufacturing industry by providing more shops with the resources they need to innovate, grow, thrive, and fuel our economy.
So how does it work?
Step 1: Submit your referral to Paperless Parts.
All you need to do is head over to the form on this page and enter some basic information about you and the person you're referring. Before submitting, keep in mind:
Make sure you know your referral personally
Familiarize yourself with who makes a good Paperless Parts customer
Have a chat with them to ensure they're at least open to hearing from us
Give them the heads up that we'll be reaching out
Step 2: If it looks like a good fit, we'll schedule a demo.
We'll receive the form submission on our end, review the information, and either schedule a demo or not based on a few key factors:
Process: CNC machining, sheet metal fabrication, and additive manufacturing are our bread and butter at the moment, but we are always expanding our capabilities to address new processes, so check back often.
Size: Ideally, their business does at least $1M in annual sales.
Location: At the time, we are only servicing U.S. based shops.
Step 3: After they attend a demo, you get $500.
If our sales team determines that the referral is a good fit, we will contact them to schedule a demo of our software. The $500 Demo Reward will be paid if they attend the demo within 30 days of the referral submission.
Step 4: If they sign up with Paperless Parts, you earn even more cash.
How much more, exactly?
If a referral of yours becomes a Paperless Parts customer, you'll get rewarded $1,500 for your first referral and $2,000 for every referral after that. Reward dollars can be delivered via Visa gift card or as a credit on your Paperless Parts bill.
Refer enough customers to Paperless Parts, and we'll foot the bill for you to attend our inaugural user conference (first one slated for Spring 2023).
Please note: a Paperless Parts customer can't refer itself or its affiliates, or a business that is already using Paperless Parts or in active conversations with our sales team. If we receive the same referral from multiple sources, only the first will receive credit.
Have additional questions? Email [email protected] with the subject line "referral program," or head over to the FAQ section of the Customer Champion Program information page on our website.
For our full list of rules and regulations, please refer to our official Terms and Conditions.
Ready to start earning rewards? Refer a customer today.