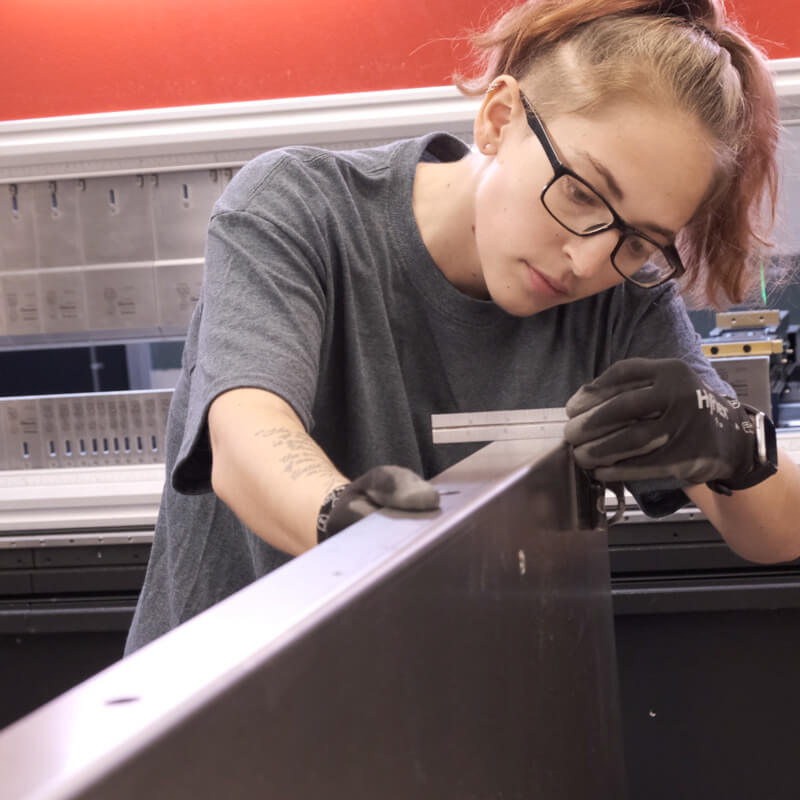 Hindsight is 20/20: Quoting Help for Sheet Metal Fabricators, From Sheet Metal Fabricators
If you're looking for quoting help for sheet metal fabricators, who better to turn to than the sheet metal fabricators who have mastered the art of quoting?
Based on the most common shared challenges among fab shops, we've compiled advice from sheet metal fabricators across the U.S. who have transformed their quoting process and are now turning quotes around faster and with greater consistency than ever.
Quoting Challenge: Bottlenecks and human error requiring frequent rework.
Quoting Solution: Connecting the front office to the shop floor.
Ameritex, a Texas-based provider of advanced metal fabrication services, shares their experience:
"We realized growth was happening in the shop, but our office functions couldn't keep up. Now with Paperless Parts, our design and quoting processes are instantaneous. It's easier for our estimation engineers to program, model, quote, and nest projects. It's all one cohesive process that's much faster." – Zack Fennell, COO
Quoting Challenge: Quoting data is difficult to navigate so tracking down important information is a lengthy and arduous process.
Quoting Solution: Gathering your most important quoting data in one secure and easily accessible location.
Franklin Sheet Metal has spent over six decades designing and fabricating precision sheet metal parts and products.
Before Paperless Parts, Franklin Sheet Metal used a homegrown quoting form and manually pulled data from their ERP to build a quote. "We couldn't search everything, and we were losing the quoting history," recalls General Manager Michael Abi-Kheirs. "I'm an engineer, so I love being able to just drag and drop my models and have them break down the quote and the quotes for all the sub-parts in Paperless Parts; for me it makes everything so easy to manage."
Quoting Challenge: Disorganization and inconsistent processes leading to difficulty hiring and training new estimators.
Quoting Solution: A more intuitive and easy-to-use quoting system.
Texcraft specializes in metal fabrication for a diverse range of industries, including agriculture, automotive, and construction. Their team includes numerous estimators who, before implementing Paperless Parts, used Excel spreadsheets to quote.
Texcraft president Pam Hufstedler recalls, "One estimator was using one version of an Excel spreadsheet, and another estimator tweaked that spreadsheet to make it his own. If I were to hire a new estimator, which model would I train them on?"
Consistency in the quoting process, coupled with Paperless Parts' intuitive platform enabled Pam to bring new, less experienced estimators onto her team. "I am really looking forward to having the opportunity to train our incoming estimator on the Paperless Parts platform," Pam shares.
Quoting Challenge: Manual data entry fueled by tribal knowledge resulting in inconsistent quotes.
Quoting Solution: Modern software that codifies tribal quoting knowledge to product more accurate, consistent quotes.
METALfx is a leading provider of precision sheet metal fabrications, enclosures, and assemblies. Recently, their business had been growing but their quoting process felt like it was holding them back from reaching their full potential.
"Paperless Parts digitizes the tribal knowledge honed over years of estimator experience as hard data. That transformation has enabled METALfx to generate accurate and consistent quotes in a fraction of the time," Henry Moss, President.
Paperless Parts delivers fast, intuitive quoting help for sheet metal fabricators. If you're looking to implement the same best practices as the sheet metal fabricators quoted above, be sure to check out a free demo of our all-in-one quoting software today.
Ready to see our sheet metal quoting solution in action?